FESTIVAL MAIN EVENTS
Haliburton Highlands Biggest Picnic Ever
Join us for the Haliburton Highlands community picnic and closing ceremonies of the 2019 Hike Haliburton, a celebration of food and outdoor living.
There will be local food & Beverage, demonstrations & exhibitors, live entertainment, and a "best picnic blanket" contest. We are pleased to be featuring live music by Canadian reggae band The Satallites, to help wrap up this years Festival. Bring your picnic blanket and lunch or buy your picnic ingredients from local food vendors.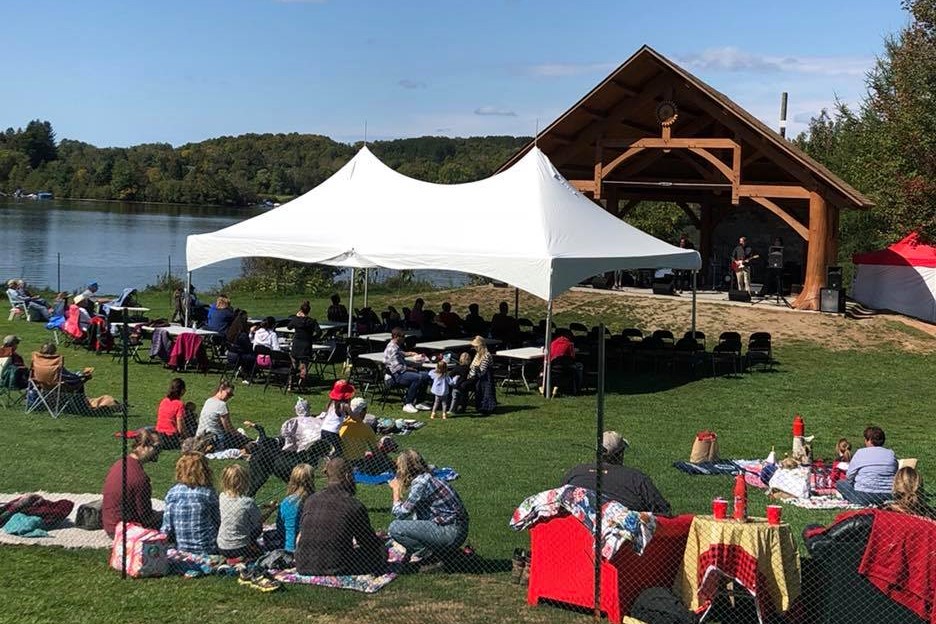 DATE:                 Sunday, September 22nd
LOCATION:        Head Lake Park, 23 York Street, Haliburton
TIME:                 12:00 PM to 3:00 PM
DIRECTIONS:     Head Lake Park is located in Haliburton at 23 York Street. From Minden take County Rd. 21 to Haliburton and turn left onto York Street or into Head Lake Parking lot. Distance from Minden is approximately 25 km. GPS coordinates: N 45.0464, W 78.5110
Once Around Algonquin 
Kevin Callan's book, Once Around Algonquin, is an exciting tale of misadventure on the toughest route in Ontario's most well-loved wilderness.
Kevin will share his love of this paddling paradise and tell the tales behind the blisters and bruises in this bromance adventure.  Kevin will be happy to sign your copy of his book. This presentation is sponsored by Algonquin Outfitters and Minden Subaru and will be held in the showroom of Minden Subaru.
DATE:                 Wednesday, September 18th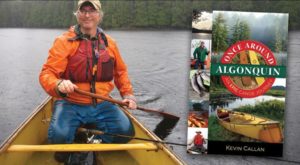 LOCATION:      Minden Subaru, 13061, Hwy 35,
TIME:                 7:00 PM to 9:00 PM
PRESENTER:  Kevin Callan
PRESENTER BIO: Kevin (aka The Happy Camper) is the author of 18 books; his latest being Once Around Algonquin: An Epic Canoe Journey. He is an award winning writer and a keynote speaker at outdoor events across North america. Kevin is also a regular guest on several television morning shows and CBC Radio. He has won several film awards, writes a column for Paddling Magazine and Explore Magazine. Kevin was listed one of the top 100 modern day explorers by the Canadian Geographical Society. He was also made Patron Paddler for Paddle Canada. Check out his web site at www.kevincallan.com and YouTube channel KCHappyCamper.
OTHER FESTIVAL EVENTS
Safe Hikers Workshop
Wednesday, September 18, 9:00 am to  4:00 pm at the Haliburton Highlands Museum.  Whether you are brand-new to trail walking/hiking and want to start off 'best foot forward', are ready to step up to become a hiking leader, or want to 'upgrade' your family walks, the Safe Hiker full-day foundation course will get you there. We will introduce you to the skills and benefits of hiking and walking, and build awareness of hiking opportunities in Ontario with special focus on safety, planning, sustainability and enjoyment. Free admission. Register here.
Minden Market Day
Saturday, September 21, 10 am – 2 pm, in between your hikes come to downtown Minden and enjoy shopping at the Artisan Market and the Haliburton County Farmers' Market. Check out a variety of handcrafted items from the local Artisan vendors and finish with tasting & shopping the local breads, wines, herbs, honey, meat and more at the Farmers' Market. As well, say hi to us at the Hike Haliburton Information Tent and check out some new vehicles from the Festival's Presenting Sponsor (Minden Subaru).
OTHER EVENTS DURING THE FESTIVAL
Howard Ross & the Full Count Blues Band in Concert
Thursday, September 19, 7:30 pm, at the Dominion Hotel in Minden.  Get in the Festival mood with a concert featuring the Howard Ross & Full Count Blues Band.  The Full Count Blues Band is a 5 piece group consisting of frontman Howard Ross (guitar/lead vocal) with drums, bass, sax and keys. Founded in 1986, Howard and the Full Count band have since played hundreds of concert and club venues both as a headline act and as opener for the likes of Johnny Winter, Bo Diddley, Downchild and many others. The Full Count Blues Band covers a wide range of material, from country to classic rock. Their specialty, however is R&B and blues from artists including Stevie Ray Vaughan, B.B. King and Eric Clapton. Tickets at https://dominionhotelpub.ca/
Danny Michel in Concert
Friday, September 20, 8:00 pm, at the Northern Lights Performing Arts Pavilion. The Haliburton County Folk Society is presenting Danny Michel, one of Canada's most admired singer/songwriters. His music is diverse – rock, pop, folk, world or (recently) even classical. Music is an adventure for Danny. Tickets at https://www.haliburtonfolk.com
Family Harvest Festival
Saturday, September 21, 11:00 am  ‐ 4:00 pm. Head down to Irondale for a family fun day. There will be vendors, food, games, gardens, and a chance to explore history with various tours. Free admission. For more information see www.irondaleontario.ca, or contact Carol at historical@irondaleontario.ca or 705‐457‐8438.
Fall Harvest Pork Dinner
Saturday, September 21, 5:30 pm, at the Stanhope Firefighters' Community Hall.  Enjoy a home-cooked pork dinner prepared by the volunteers of the Haliburton County Historical Society.  Entertainment by Beth Johns, Norris Turner and friends. Proceeds will go to the Historical Society. Cost is $25.00 per person.  Call Larry J. Giles 705-754-0427 to purchase tickets
Edward St. Moritz – Live
Saturday, September 21, 7:00 pm, at Haliburton Highlands Brewing.  Edward St Moritz (aka Edward Moll) public performances used to be from behind a pulpit. For some of that time, he had served with the United Church in Minden, Carnarvon, and Maple Lake. Then, in his words, "The deity had had a long-running argument with me: she wanted me to follow the music. I played at the clergy thing until she had enough of that foolishness. She gave me the unusual gift of serious and chronic depression and put me in a soul lock until I relented."  He quit the ministry.  After over a decade of experimentation, writing, composing, working stuff out, and working at day jobs, Edward is coming out the other side with two CDs and a purpose. Since then, he has worked with producer and musician Don Bray, and finished his first CD of original songs "Small Things Shining Bright" in 2016. This year he has completed recording a second album "Caught", produced by Ray Dillard and scheduled for release in early 2020.
This will be a concert of original songs: Lyrically driven in a kind of post-folk way, fusing elements of celtic sensibility, classical Old World influence, and gritty observation.  Love is there, but with a distinct taste of cigars and well-aged single malt scotch. $20 at the door. Seating is limited. https://www.patreon.com/edwardstmoritz
Ray Montford & Lynn Moffatt – Live
Saturday, September 21, 7:30 pm, at the Dominion Hotel in Minden.  Join Ray Montford with special guest singer Lynn Moffatt, for a rare concert in the beautiful Haliburton Highlands. On this night, Ray will be playing songs from his eight albums, both on acoustic and electric, and he and Lynn will play some well chosen covers. Be prepared for your soul to be stirred through Ray's emotional instrumentals and Lynn's angelic voice.  Tickets at  https://dominionhotelpub.ca/
James Parker in Concert
Sun., Sep. 22, 2:30 p.m. – 4:30 p.m. at the Northern Lights Performing Arts Pavilion.  Virtuoso defined! Continually sought after to perform, James Parker is in the top tier of Canadian pianists. And he's coming to play for us! The Globe and Mail has said he has "ten of the nimblest fingers in the business." Acclaimed as a soloist, chamber musician, and as we happily recall, James has performed for us with the Gryphon Trio. He has been invited to the international juries of the Van Cliburn International and the Honens International Piano competitions. He will treat us to works by Schumann, Brahms, Chopin, Debussy, Linda C. Smith, Bartòk, and Beethoven. What a program! For tickets contact 705-455-9060 or fred.ann.shuttleworth@gmail.com