FESTIVAL MAIN EVENTS
Haliburton Highlands Biggest Picnic Ever
Join us for the Haliburton Highlands community picnic and closing ceremonies of the 2019 Hike Haliburton, a celebration of food and outdoor living.
There will be local food & Beverage, demonstrations & exhibitors, live entertainment, and a "best picnic blanket" contest. We are pleased to be featuring live music by Canadian reggae band The Satallites, to help wrap up this years Festival. Bring your picnic blanket and lunch or buy your picnic ingredients from local food vendors.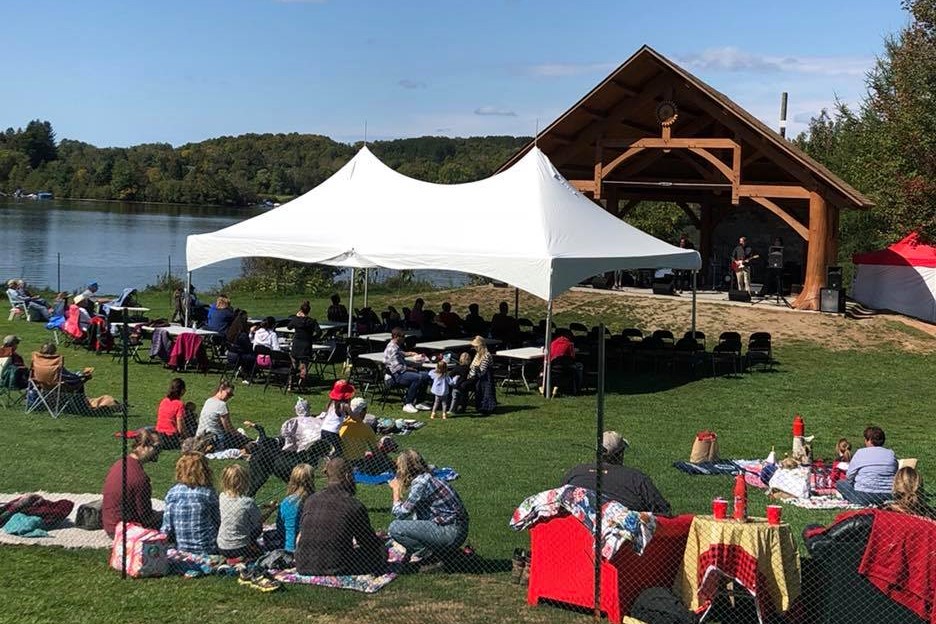 DATE:                 Sunday, September 22nd
LOCATION:        Head Lake Park, 23 York Street, Haliburton
TIME:                 12:00 PM to 3:00 PM
DIRECTIONS:     Head Lake Park is located in Haliburton at 23 York Street. From Minden take County Rd. 21 to Haliburton and turn left onto York Street or into Head Lake Parking lot. Distance from Minden is approximately 25 km. GPS coordinates: N 45.0464, W 78.5110
Once Around Algonquin 
Kevin Callan's book, Once Around Algonquin, is an exciting tale of misadventure on the toughest route in Ontario's most well-loved wilderness.
Kevin will share his love of this paddling paradise and tell the tales behind the blisters and bruises in this bromance adventure.  Kevin will be happy to sign your copy of his book. This presentation is sponsored by Algonquin Outfitters and Minden Subaru and will be held in the showroom of Minden Subaru.
DATE:                 Wednesday, September 18th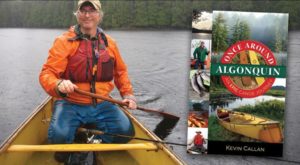 LOCATION:      Minden Subaru, 13061, Hwy 35,
TIME:                 7:00 PM to 9:00 PM
PRESENTER:  Kevin Callan
PRESENTER BIO: Kevin (aka The Happy Camper) is the author of 18 books; his latest being Once Around Algonquin: An Epic Canoe Journey. He is an award winning writer and a keynote speaker at outdoor events across North america. Kevin is also a regular guest on several television morning shows and CBC Radio. He has won several film awards, writes a column for Paddling Magazine and Explore Magazine. Kevin was listed one of the top 100 modern day explorers by the Canadian Geographical Society. He was also made Patron Paddler for Paddle Canada. Check out his web site at www.kevincallan.com and YouTube channel KCHappyCamper.
OTHER FESTIVAL EVENTS
Safe Hikers Workshop
Wednesday, September 18, 9:00 am to  4:00 pm at the Haliburton Highlands Museum.  Whether you are brand-new to trail walking/hiking and want to start off 'best foot forward', are ready to step up to become a hiking leader, or want to 'upgrade' your family walks, the Safe Hiker full-day foundation course will get you there. We will introduce you to the skills and benefits of hiking and walking, and build awareness of hiking opportunities in Ontario with special focus on safety, planning, sustainability and enjoyment. Free admission. Register here.
Minden Market Day
Saturday, September 21, 10 am – 2 pm, in between your hikes come to downtown Minden and enjoy shopping at the Artisan Market and the Haliburton County Farmers' Market. Check out a variety of handcrafted items from the local Artisan vendors and finish with tasting & shopping the local breads, wines, herbs, honey, meat and more at the Farmers' Market. As well, say hi to us at the Hike Haliburton Information Tent and check out some new vehicles from the Festival's Presenting Sponsor (Minden Subaru).
OTHER EVENTS DURING THE FESTIVAL
Sean Chambers Band in Concert
Thursday, September 19, 8:00 pm, at the Dominion Hotel in Minden.  Get in the Festival mood with a concert featuring the Sean Chambers Band.  This band "achieves the distinctly american blues/soul/country/rock sound that the Stones used to aspire to long ago." – Jerry Shriver, USA TODAY. Sean will just be returning from his 2nd European tour and fresh off the stage of the Wasaga Beach Blues Festival.  Sean and his band have performed at the Dominion Hotel in previous years and always have a high-energy show that pleases all fans of the genre. Tickets at https://dominionhotelpub.ca/
Danny Michel in Concert
Friday, September 20, 8:00 pm, at the Northern Lights Performing Arts Pavilion. The Haliburton County Folk Society is presenting Danny Michel, one of Canada's most admired singer/songwriters. His music is diverse – rock, pop, folk, world or (recently) even classical. Music is an adventure for Danny. Tickets at https://www.haliburtonfolk.com
Family Harvest Festival
Saturday, September 21, 11:00 am  ‐ 4:00 pm. Head down to Irondale for a family fun day. There will be vendors, food, games, gardens, and a chance to explore history with various tours. Free admission. For more information see www.irondaleontario.ca, or contact Carol at historical@irondaleontario.ca or 705‐457‐8438.
Fall Harvest Pork Dinner
Saturday, September 21, 5:30 pm, at the Stanhope Firefighters' Community Hall.  Enjoy a home-cooked pork dinner prepared by the volunteers of the Haliburton County Historical Society.  Entertainment by Beth Johns, Norris Turner and friends. Proceeds will go to the Historical Society. Cost is $25.00 per person.  Call Larry J. Giles 705-754-0427 to purchase tickets
Coffee House Music and Mingle
Saturday, September 21, 8:00 pm, at the Dominion Hotel in Minden. Featuring an array of musical talent and genres this will be an evening of music and mingling. Join us and see how we locals spend a Saturday night.  A small cover charge will apply and can be paid online at  https://dominionhotelpub.ca/
James Parker in Concert
Sun., Sep. 22, 2:30 p.m. – 4:30 p.m. at the Northern Lights Performing Arts Pavilion.  Virtuoso defined! Continually sought after to perform, James Parker is in the top tier of Canadian pianists. And he's coming to play for us! The Globe and Mail has said he has "ten of the nimblest fingers in the business." Acclaimed as a soloist, chamber musician, and as we happily recall, James has performed for us with the Gryphon Trio. He has been invited to the international juries of the Van Cliburn International and the Honens International Piano competitions. He will treat us to works by Schumann, Brahms, Chopin, Debussy, Linda C. Smith, Bartòk, and Beethoven. What a program! For tickets contact 705-455-9060 or fred.ann.shuttleworth@gmail.com